Bookmobile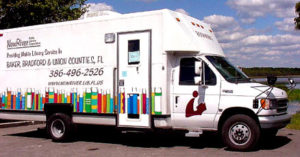 The New River Public Library Cooperative Bookmobile serves Baker, Union Counties, and parts of Bradford County, FL. Use your library card or register at the bookmobile.
We have books, audios, and videos/DVDs for children and adults.
Call for more information 386-496-2526
New River Bookmobile Printable Schedule
THIS SCHEDULE MAY CHANGE IN CASES OF SEVERE WEATHER OR VEHICLE BREAKDOWN
Schedule excludes all county, state and federal holidays.
The New River bookmobile runs on a schedule of stops every first and third week of the month and other stops every second and fourth week of the month. FIFTH WEEK In the event of a fifth week, the bookmobile will be off the road. We use this time for maintenance of the vehicle and the collection. Call the New River Public Library Cooperative at 386-496-2526 for more information.
Bradford County Public Library Bookmobile serves the residents of Bradford County and stops at each site once a week. For more information, please visit Bradford Co. Public Library Bookmobile page or contact by phone at (904)368-3911.
Children's Outreach Office
Harriet is the Children's Library Assistant @ NRPLC. She began her career with the cooperative in 2008 in Children's Outreach.
Harriet provides outreach library services in Baker, Bradford and Union counties. She presents Preschool Storytime twice a month to over 20 Pre-K and preschool centers throughout the tri-county area, reaching over 550 students each month.
She provides outreach support to over 40 teachers each month. The Coop has 52 Storyboxes that can be checked out by the teachers that coordinate with their weekly teaching theme. The Storyboxes contain books, activities, games and puzzles.
Another of Harriet's duties is to create a bi-weekly newsletter for the teachers filled with information about books, literacy, authors and illustrators. She then combines the two newsletters to create the Storytime Newsletter for this web page.
The early years are critical to developing a lifelong love of reading. Harriet's goal is for the children to experience the joy of reading and develop a love for books.
Week One and Three of Each Month
Tuesday
Lake Butler Community Center (Lake Butler): 9:30-11:30am
Newriver Volunteer Fire & Rescue (Starke): 12:45-2:00pm
Lake Butler Forest Park Apartments (Lake Butler): 2:30-3:30pm
Lake Butler Housing (Lake Butler): 3:45-4:30pm
Lake Butler Apartments (Lake Butler): 4:45-5:45pm
Feb. 2 & 16, Mar. 1 & 15, April 5 & 19, May 3 & 17, June 7 & 21
Wednesday
The Arc (Macclenny): 9:45-10:45am
Dollar Store (Glen St. Mary): 11:00-1:00pm
Taylor Store (Taylor): 2:30-3:30pm
Altman's Grocery (Cuyler): 4:00-5:00pm
Jan. 6 & 20, Feb. 3 & 17, Mar. 2 & 16, April 6 & 20, May 4 & 18, June 1 & 15
Thursday
Lake Butler Christian Academy (Lake Butler): 9:30-10:45am
Dollar General (Lawtey): 11:30-12:30pm
Tatum Bros. Park (Lawtey): 1:30-2:45pm
Grace United Methodist Church (Lawtey): 3:00-4:00pm
Lawtey Apts. (Lawtey): 4:15-5:15pm
Jan. 7 & 21, Feb. 4 & 18, Mar. 3 & 17, April 7 & 21, May 5 & 19, June 2 & 16
Friday
Old Credit Union (Sanderson): 9:45-10:45am
Tractor Supply (Macclenny): 11:15-12:30pm
Save a Lot (Macclenny): 1:30-2:45pm
Frank Wells Nursing Home (Macclenny): 3:30-4:45pm
Jan. 1-Holiday/Closed, Jan. 15, Feb. 5 & 19, Mar. 4 & 18, April 1 & 15, May 6 & 20, June 3 & 17
Week Two and Four of Each Month
Tuesday
Sequel School (Raiford): Not open to the public
Kangaroo (Raiford): 11:45-12:45pm
Union Housing (Lake Butler): 1:45-2:45pm
Olustee Depot: 3:45-5:00pm
Jan. 12 & 26, Feb. 9 & 23, Mar. 8 & 22, April 12 & 26, May 10 & 24, June 14 & 28
Wednesday
United Christian Academy (Macclenny): 9:45-10:45am
Council on Aging (Macclenny): 11:00-12:00pm
Macedonia Gro. (Macedonia): 1:00-2:00pm
Country Boys (Glen St. Mary): 2:30-3:30pm
Altman's Grocery (Cuyler): 4:00-5:00pm
Jan. 13 & 27, Feb. 10 & 24, Mar. 9 & 23, April 13 & 27, May 11 & 25, June 8 & 22
Thursday
Faith Baptist Church: 9:30-10:30am
Spires Grocery (Lake Butler): 10:45-11:45am
Thomas Hardware (Providence): 12:45-2:00pm
Santa Fe Park (Worthington Springs): 2:45-4:30pm
S&S (Worthington Springs): 4:45-5:30pm
Jan. 14 & 28, Feb. 11 & 25, Mar. 10 & 24, April 14 & 28, May 12 & 26, June 9 & 23
Friday
Nursing & Rehab (Macclenny): 9:30-11:45am
Baker Manor (Macclenny): 12:45-1:45pm
Northwood Apts (Macclenny): 2:15-3:15pm
Winn Dixie (Macclenny): 3:45-4:45pm
Jan. 8 & 22, Feb. 12 & 26, Mar. 11, Mar. 25 Holiday/Closed, April 8 & 22, May 13 & 27, June 10 & 24
Preschool Program Schedule
Week One
Tuesday
Macclenny Head Start: 9:00am, 9:20am & 9:40am
Eagle's Nest (Macclenny):10:05am, 10:25am & 10:45am
Children's Elite (Macclenny):11:00am & 11:20am
Wednesday
Bradford Preschool (Starke): 9:00am, 9:20am & 9:40am
New Beginnings (Starke): 10:00am
Thursday
Starke Headstart: 9:20am
Love'n & Learning Childcare (Hampton): 10:00am
Friday
Starke Elementary Pre-K (Starke): 9:00am & 9:20am
Rainbow Center (Starke): 9:50am & 10:10am
Week Two
Tuesday
Lil Rainbow (Lake Butler): 8:45am, 9:05am & 9:25am
Tiger's Den (Lake Butler): 9:45am
Wednesday
Northside (Starke): 9:00am, 9:25am & 9:45am
Thursday
Love Center ll (Macclenny): 8:55am
Tiny Tot's: 9:20am
ABC Learning Center: 9:45am & 10:05am
Baker Pre-K: 10:30am, 11:00am & 12:30pm
Friday
Tiny Tots, Too (Macclenny): 9:40am
Love Center l (Macclenny): 10:10am
Baker Pre-K: 10:40am &11:20am
Week Three
Tuesday
Macclenny Head Start: 9:00am, 9:20am & 9:40am
Eagle's Nest (Macclenny):10:05am, 10:25am & 10:45am
Children's Elite (Macclenny):11:00am & 11:20am
Wednesday
Bradford Preschool (Starke): 9:00am, 9:20am & 9:40am
New Beginnings (Starke): 10:00am
Thursday
Starke Headstart: 9:20am
Love'n & Learning Childcare (Hampton): 10:00am
Friday
Southside Elem. Pre-K (Starke): 9:00am & 9:20am
Rainbow Center (Starke): 9:50am & 10:10am
Week Four
Tuesday
Lil Rainbow (Lake Butler): 8:45am, 9:05am & 9:25am
Tiger's Den (Lake Butler): 9:45am
Wednesday
Northside (Starke): 9:00am, 9:25am & 9:45am
Thursday
Love Center ll (Macclenny): 8:55am
Tiny Tot's: 9:20am
ABC Learning Center: 9:45am & 10:05am
Baker Pre-K: 10:30am, 11:00am & 12:30pm
Friday
Tiny Tots, Too (Macclenny): 9:40am
Love Center l (Macclenny): 10:10am
Baker Pre-K: 10:40am &11:20am